Per Capita Davis: The great Burger Battle is on!
First things first: the "COOl Cuisine Burger Battle" is coming to Davis. For the entire month of March, we can chomp on a hamburger without the ham (not that it had ham in the first place) — a burger without the meat, replaced instead with…
CATEGORIES
FACEBOOK FEED
We like you! So why not like us back? Happy Friday! ... See MoreSee Less
2 days ago
Load more
TWITTER FEED
Cool Homes across Davis like us. Is your home up for the challenge?
Twitter feed video.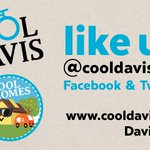 Load More...