Sign up for Cool Davis News and Activities
Go to our Contact Us page for specific inquiries or questions. We look forward to hearing from you!
FACEBOOK FEED
TWITTER FEED
Visit Cool Davis and @SacEV at @DavisFarmMarket 3rd Saturdays. Not sure if Glinda will be there, but her message lives on: tap your heels three times and repeat, 'Nothing rides like an electric vehicle.'
Twitter feed video.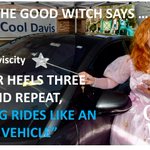 Load More...