Are You Ready for May is Bike Month?
May is Bike Month is just around the corner and there are many people in Davis getting ready for this year's fun and challenge.  Log on to sign up at  http://www.mayisbikemonth.com/ . Get your workplace, school site, church etc. going with the challenge!  Folks in…
CATEGORIES
FACEBOOK FEED
We like you! So why not like us back? Happy Friday! ... See MoreSee Less
2 days ago
Load more
TWITTER FEED
Cool Homes across Davis like us. Is your home up for the challenge?
Twitter feed video.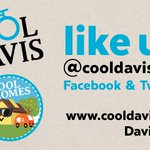 Load More...