Nominations for 2014 Eco-Hero and Climate Solution Awards
Cool Davis invites the community to submit nominations for the 2014 Eco-Hero Awards for individuals and Climate Solution Awards for Businesses, Non-Profits, and Groups.  These individuals and groups serve as models and leaders as they inspire our community to take action.  Nominations are due March…
Call for 2013 Eco-hero Award Nominations
The celebration for the 2012/13 Cool Davis Eco Hero Awards is set for April 21.  Each year Cool Davis selects three individuals from our community to highlight with a special award.
CATEGORIES
FACEBOOK FEED
We like you! So why not like us back? Happy Friday! ... See MoreSee Less
1 day ago
Load more
TWITTER FEED
Cool Homes across Davis like us. Is your home up for the challenge?
Twitter feed video.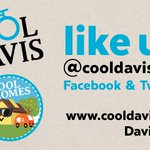 Load More...