COOL Cuisine: Get Your Veggies and Help the Planet, Too!
November 30, 2016 By Judy Moores COOL Cuisine is a coalition of local individuals and organizations who enjoy eating "plant-based" meals that has attracted hundreds of followers on Facebook and Meetup.com. COOL Cuisine's mission is to encourage local restaurants to increase the number of plant-based…
CATEGORIES
FACEBOOK FEED
We like you! So why not like us back? Happy Friday! ... See MoreSee Less
2 days ago
Load more
TWITTER FEED
Cool Homes across Davis like us. Is your home up for the challenge?
Twitter feed video.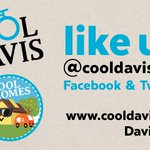 Load More...