Per Capita Davis: How big is the battle?
"Dire" — an adjective describing an extremely serious or urgent situation or event causing great fear or suffering. Synonyms include horrible, atrocious, shocking, outrageous, unspeakable, alarming and grim. The front page, above the fold, headline in the May 7 edition of The New York Times…
CATEGORIES
FACEBOOK FEED
TWITTER FEED
Visit Cool Davis and @SacEV at @DavisFarmMarket 3rd Saturdays. Not sure if Glinda will be there, but her message lives on: tap your heels three times and repeat, 'Nothing rides like an electric vehicle.'
Twitter feed video.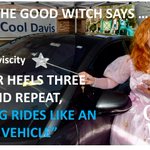 Load More...