Phoenix Chong and Her 2011 Nissan Leaf
The Owner/Driver
Name: Phoenix Chong
Occupation: Retired attorney
Location: Oakland/San Francisco, CA
The Vehicle
Year/make/model: 2011 Nissan Leaf
Type: Fully electric
Range: 84 miles
MPGe: 99
MSRP*: $32,780
Time owned: 7+ years
*When new, at time of model release.
The Experience
What made you decide to go electric and how did you decide what car to get?
I had been looking for an electric car ever since roughly 2003, when conflict in the Middle East made me decide that I wanted to do everything I could to decrease my reliance on fossil fuels. For a while, I used biodiesel powered by recycled potato chip oil to fuel my car. But after becoming a solar household in 2004, I began searching for an affordable electric car. I had bought a vintage vehicle that I planned to convert to electric when Nissan announced it was finally coming out with an all-electric vehicle. At the time, the only other all-electric option was the Tesla, which cost more than I wanted to spend. So it was a no-brainer—Leaf it was!
How has the cost of purchasing and owning your EV compared to the cost of purchasing and owning a conventional car?
The quality of the Leaf is high enough that I am very satisfied after 7 years of ownership. I love the low maintenance of the Leaf. As a low-mileage driver, the only maintenance I've had to do is replace all the tires last year at about 35,000 miles. I'm not thrilled that the battery capacity has diminished somewhat as the car has gotten older, but c'est la battery vie. I save by not buying gas, but I need to pay to charge now and then when I'm on the road and need to top off. But generally, if I charge at home, I get free power from my solar panels.
What have been the biggest challenges of going electric?
Insufficient charging infrastructure. Chargers aren't always available where you need them, and as more folks adopt EVs, there will be a longer wait for the public chargers that do exist.
What are the biggest misconceptions of going electric?
Range limitations really aren't that big a deal once you get familiar with how far your car can go. Just like with any car, don't push your limits. You wouldn't use a small sedan to haul a trailer, and so you shouldn't plan a long-distance car trip in a lower-range EV (but if you're a Tesla owner with lifetime supercharger access, go for it!). Other misconceptions are not realizing how liberating it can be to never have to go to a gas station again. Your car refuels while you sleep!
Describe one of the farthest/coolest/most ambitious trips you've ever taken in your EV.
In my early years as an EV owner, I did 3 quick charges and drove almost 200 miles in one day to push the Leaf's capabilities. But going far isn't the holy grail of EV transport. I mostly drive to do office catering in central SF, and the Leaf does a stellar job of meeting my needs. Nowadays you can get an EV with a 200–300 mile range. But if 80–90% of your daily driving is under 50 miles, it might be worth it to get a cheaper, lower-range EV and use the savings to just rent a car or carshare for those few days when you are traveling farther.
Do you have any good stories about your experience as an EV owner?
I have a good story about someone else! I read about someone who modified a Leaf with an electric outlet so that he was able to use the power from his Leaf's battery to power his fridge and other necessities when a hurricane struck and took down the electric grid. I'm planning to similarly modify my Leaf so that I can use it to live off grid for a little while if necessary.
What is the number-one thing you think could be done to encourage more people to go hybrid/electric?
I'm so much more aware of the smog and stink caused by gas emissions when I'm sitting in traffic jams in San Francisco. High-density cities could decrease the health and environmental effects of traffic by creating incentives to encourage EV use in congested areas. For instance, EV delivery vehicles should be allowed to park in yellow zones despite not having a truck loading permit.
Also, I wish there was a way to apply residential energy credits at public charging stations. With our residential solar photovoltaic system, we generate more electricity than we use at home. It would be great if we could just enter our PG&E account number and PIN at a public charging station to apply our net metering credits instead of paying with cash or card.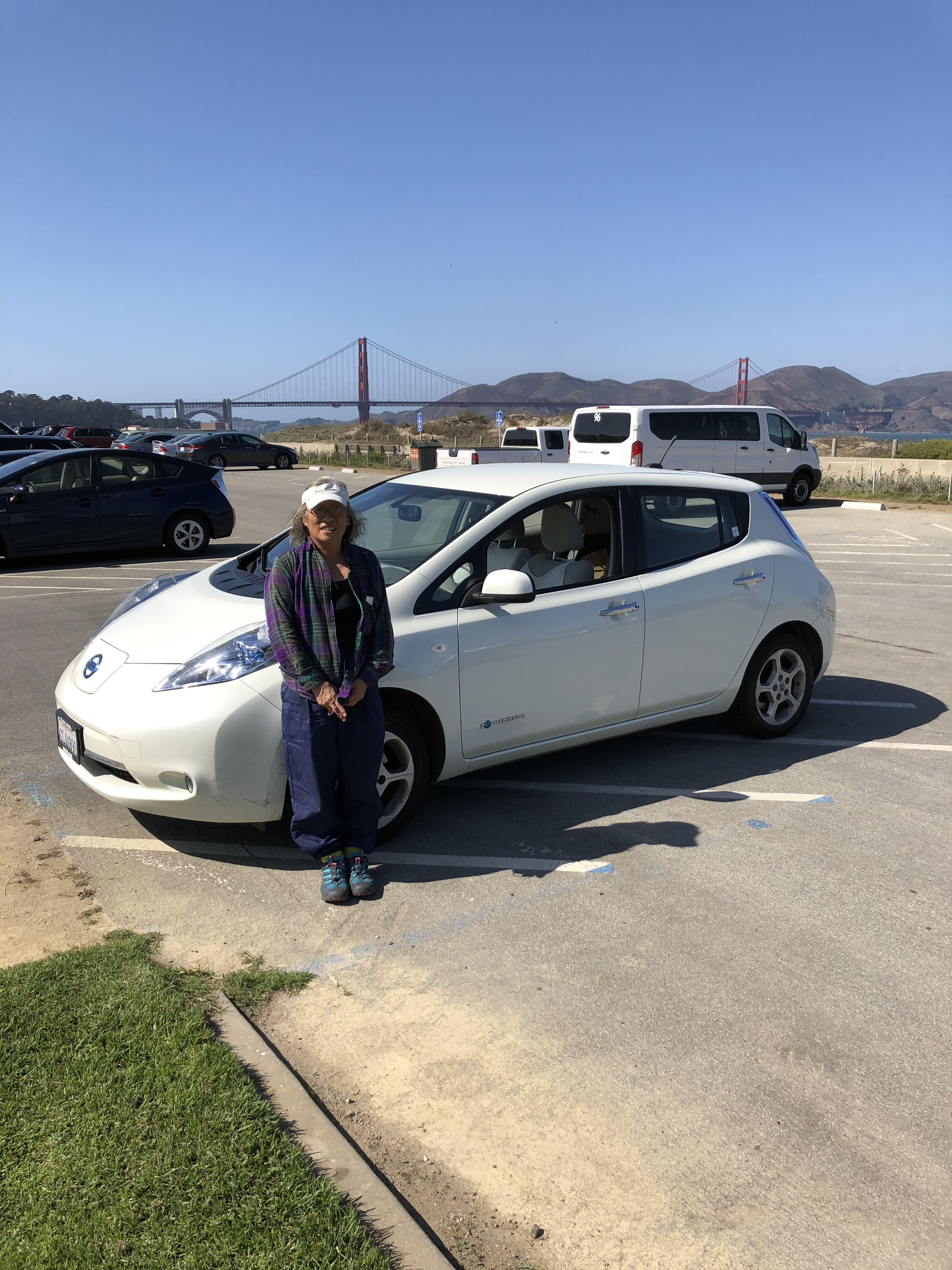 The EV&Me blog was created by Hannah Safford, Researcher for the UC Davis Policy Institute for Energy, Environment, and the Economy.  The original post is located on the UC Davis Institute for Transportation Studies web page. Browse on over for instructions on how to submit your EV story!
EV owners/drivers wishing to be featured in an upcoming EV&Me post can self-nominate by filling out this form. Note that the blog is not limited to Davis residents. Nominations are welcome from all over! EV drivers and owners are also encouraged to share their stories using the hashtag #EVandMe.
For more information about electric vehicles and rebates, check out the Cool Davis Drive Electric web page.