Cool California Challenge Extended
Cool California Challenge Extended through May 31st! Davis still in the lead!
Nearly 375 Davis households have been participating in a statewide Cool California Challenge competition to reduce greenhouse gas emissions. Davis has been firmly in the lead when the competition began in April of 2012, however, Chula Vista and Tracy are not far behind. The winning city will be awarded the title of "Coolest California City" in June.
Last month organizers extended the competition through May 31st so there's still time to sign up and boost the Davis lead! Now participants can invite their friends and neighbors to join a team and compete together plus take a short survey to help organizers better understand what motivates individuals to reduce their carbon footprint. Existing participants are encouraged to continue reporting energy use and odometer readings, upload energy bills, and record other "kudo's" to earn gobs of points. Participants can still record final results when they receive their utility bills in June.
If you'd like help updating your Cool California account or signing up for the first time, come to the Cool Davis booth this week at the Farmer's Market Wednesday between 5 and 7pm.
Prizes will be available for participants who have completed the Cool California Challenge survey. Show us your Cool California profile page with your "Official Contributor" notice in the survey box via Cool Davis laptops available at the booth, then choose from a Cool Davis t-shirt, LED light bulb, clothesline, or other cool prize.
All participants will be entered into a final drawing at the end of the competition for some special prizes.
Go to www.cooldavis.org/cool-california to sign up.  Contact info@cooldavis.org for more information.
CATEGORIES
FACEBOOK FEED
Making Davis More SustainableFebruary 22, 2018, 7:00pm7844 Hamel Ln, Davis, CA 95618-5801, United StatesPlease join us for a Community Gathering and FREE Dinner to discuss how to move Davis to a sustainable future by reducing meat and dairy consumption.

Livestock agriculture is a major source of CO2: more than 14% of global greenhouse gas (GHG) emissions are emitted by livestock production. In fact, the five largest meat and dairy companies generate more GHG emissions than Exxon Mobil, Shell or BP!

Livestock agriculture is also a huge consumer of land and water. 27% of global land area is used for livestock production--that's about the 400% the size of Europe! Additionally, each pound of beef requires more than 1800 gallons of water (while each pound of pork requires 720 gallons of water!)

Where:
The Farmhouse
7844 Hamel Lane

When:
Thursday, February 22nd
7:00 PM

Agenda

Discuss strategies and local action plans to reduce Davis's carbon footprint from meat and dairy consumption.

Some potential strategies we will discuss are:
Expanding the existing Meatless Mondays programs at UC Davis and in Davis schools.
Increasing the availability of vegetarian and vegan options in Davis restaurants both on and off campus, and making sure they are priced fairly
A tax on meat and dairy products. Revenues from the meat tax would either be rebated to consumers in the form of a coupon that can be used to purchase produce in Davis or used to fund programs to feed Davis community members in need.
Any other ideas you bring to the [vegan] table!

We will be serving delicious homemade vegan fare and an assortment of yummy drinks at the meeting. Please contact jeff.kessler@gmail.com for more questions and to let us know if you can attend (so we can prepare enough food for everyone!). ... See MoreSee Less
3 hours ago
Load more
TWITTER FEED
We Can Do It, Davis! 3,182 systems down, 1,418 to go! DAVIS NEEDS YOU! #gosolarDavis Repower Yolo Solar Roof Dynamics Aztec Solar, Inc
Twitter feed video.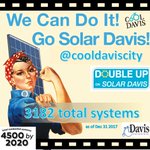 Load More...