Cool Davis Is Seeking to Hire a Campaign Manager!
Cool Davis is looking for candidates who want to stretch their professional and technical skills developing model programs with a lasting impact on our community, our region, California, and the world. We offer seasoned professionals—as well as recent college graduates and college students—access to valuable…
CATEGORIES
FACEBOOK FEED
We like you! So why not like us back? Happy Friday! ... See MoreSee Less
1 day ago
Load more
TWITTER FEED
Cool Homes across Davis like us. Is your home up for the challenge?
Twitter feed video.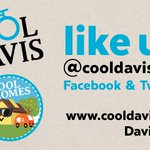 Load More...