EVs@theMarket 2018 a Huge Success!
The final numbers are in! This year's EVs@theMarket event far surpassed last year's event in basic metrics as well as photographs and videos produced. Conversations with electric vehicles owners numbered 1078. There were 27 owner-volunteers displaying their electric vehicles (three more than planned via a little…
CATEGORIES
FACEBOOK FEED
TWITTER FEED
Visit Cool Davis and @SacEV at @DavisFarmMarket 3rd Saturdays. Not sure if Glinda will be there, but her message lives on: tap your heels three times and repeat, 'Nothing rides like an electric vehicle.'
Twitter feed video.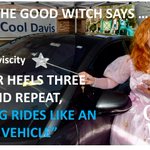 Load More...