Interfaith Alliance introduces Meatless Monday
Yolo Interfaith Alliance for climate Justice has introduced Interfaith Meatless Monday to most of its 11 member congregations. Joining Meatless Monday is One Simple Thing we can do to address climate change. For the health of the planet, for our own health, to save water, to save money, and to help alleviate world hunger, members of various faith communities in Davis are pausing to place a dried bean in a jar for each meatless day that week. It's a small act that multiplied by many people and many meatless days has a big impact.
Participating faith communities so far include:  Unitarian Universalist Church of Davis, United Methodist Church of Davis, Davis Community Church, University Covenant Church, Friends, Unity Center, St. James Catholic Church, Bet Haverim Congregation, and CA House.  St. James is participating in Interfaith Meatless Monday by practicing Meatless Friday which Pope Francis has reinstated for environmental reasons!
Meatless Monday in our Region
Meatless Monday is already well-established in our region. Many UC campuses have long since adopted the program, including UC Davis which has encouraged student pledges and highlighted vegetarian and vegan options on Mondays since 2007. All the State University System promotes meatless Mondays as well. Meanwhile, nearby school districts of Winters and Vacaville already have programs in place and our own Davis Unified School District is looking for how to implement the program. Nearby participating cities include San Francisco, Santa Monica, Los Angeles, Oakland, San Jose, and Long Beach. Perhaps Davis will be next.
Cooking Demonstrations
To help folks make the transition to a more plant-based diet, Interfaith Meatless Monday has offered two cooking demonstrations so far, with more on the horizon. The first, "Mediterranean Cuisine with Wine Pairing" featured a four-course meal including Sicilian Caponata with Crusty Bread, Fresh Tuscan Kale Salad, Pommes Boulangère with Seville Style Spinach and Chickpea Stew, and Amaretto Crisp Baked Apples. The 23 guests enjoyed an elegant feast indeed.
The second cooking demonstration provided 20 guests with recipes and servings of three hearty vegan main dishes: Shepherd's pie, transformed Classic macaroni and cheese, and Cassoulet (French white bean stew).
Watch this website for notice of more Cooking classes by Chef Debra Chase of An Unplugged Kitchen.  It's worth the time to attend the free workshops just for her cooking tips!
Film nights 
Interfaith friends have another opportunity meet together, sometimes with a vegetarian potluck first, as they view films on food. The Unitarian Universalist showed Nourish: Food and Community and members from five faith communities attended. In the new year, watch for showings of Ingredients, dirt: The Movie, A Place at the Table, Fed Up: It's Time to get Real about Food, and Food, Inc. at various faith locations. The conversations should be dynamic as we navigate our way through how to make our eating match our values.  The film showing are free.
Guest Speaker on The Plant-Based Journey April 10
On Sunday, April 10, Interfaith Meatless Monday has invited Lani Muelrath to share highlights from her just-published book, The Plant-Based Journey. She'll describe what motivated her to change her diet, how she made the transition, the benefits she's discovered, and share specifics. The public is invited to Davis Community Church to hear the presentation and share in the following discussion and sample the snacks from her recipes.
One Simple Thing to lighten our Carbon  Footprint
Learning to live with a lighter carbon footprint is all a journey, and talking with others exploring the changes makes it easier and more fun. Interfaith Meatless Monday is our attempt to offer One Simple Thing we can do that is not only healthy and significant to the environment, but also rewarding and fun!
We hope to bring Meatless Monday to all of Davis soon.
By Lynne Nittler, leader of Interfaith Meatless Monday
Send questions to Interfaith@cooldavis.org
CATEGORIES
FACEBOOK FEED
Making Davis More SustainableFebruary 22, 2018, 7:00pm7844 Hamel Ln, Davis, CA 95618-5801, United StatesPlease join us for a Community Gathering and FREE Dinner to discuss how to move Davis to a sustainable future by reducing meat and dairy consumption.

Livestock agriculture is a major source of CO2: more than 14% of global greenhouse gas (GHG) emissions are emitted by livestock production. In fact, the five largest meat and dairy companies generate more GHG emissions than Exxon Mobil, Shell or BP!

Livestock agriculture is also a huge consumer of land and water. 27% of global land area is used for livestock production--that's about the 400% the size of Europe! Additionally, each pound of beef requires more than 1800 gallons of water (while each pound of pork requires 720 gallons of water!)

Where:
The Farmhouse
7844 Hamel Lane

When:
Thursday, February 22nd
7:00 PM

Agenda

Discuss strategies and local action plans to reduce Davis's carbon footprint from meat and dairy consumption.

Some potential strategies we will discuss are:
Expanding the existing Meatless Mondays programs at UC Davis and in Davis schools.
Increasing the availability of vegetarian and vegan options in Davis restaurants both on and off campus, and making sure they are priced fairly
A tax on meat and dairy products. Revenues from the meat tax would either be rebated to consumers in the form of a coupon that can be used to purchase produce in Davis or used to fund programs to feed Davis community members in need.
Any other ideas you bring to the [vegan] table!

We will be serving delicious homemade vegan fare and an assortment of yummy drinks at the meeting. Please contact jeff.kessler@gmail.com for more questions and to let us know if you can attend (so we can prepare enough food for everyone!). ... See MoreSee Less
3 hours ago
Load more
TWITTER FEED
We Can Do It, Davis! 3,182 systems down, 1,418 to go! DAVIS NEEDS YOU! #gosolarDavis Repower Yolo Solar Roof Dynamics Aztec Solar, Inc
Twitter feed video.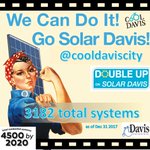 Load More...