Earth Hour – Sat. March 23 at 8:30 p.m.
Because the Cool Davis Community Action Team believes that everyone has power to inspire people and to make real change and impact in Davis and the world, we challenge all of Davis – individuals, households, businesses, the city – to join in Earth Hour. This year…
CATEGORIES
FACEBOOK FEED
We like you! So why not like us back? Happy Friday! ... See MoreSee Less
2 days ago
Load more
TWITTER FEED
Cool Homes across Davis like us. Is your home up for the challenge?
Twitter feed video.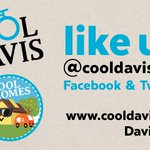 Load More...